Athletes Footnotes
May 22, 2021
It was an exciting week in Aquinas Athletics and "pseudo" athletics, i.e. Field Day. All those updates below.
In this update: Uniform Returns - Spring Feedback Survey - High School Highlights - Grade School Gloss - "The Last Battle for the Crusader Cup" (Field Day) - Summer Lacrosse - Middle School Ice Hockey - Aquinas Summer Camps
Uniform Returns
Be sure to turn in any outstanding uniforms, including Spring uniforms as those seasons end!
We're currently inventorying our uniforms, so it is essential we have all uniforms returned so that we can place new orders this summer. And of course, you don't want to incur a replacement fee!
Spring Sport Feedback Survey
Please take a few minutes to fill out a feedback survey for spring sports teams! Fill out one survey for each team on which your child(ren) participated. And have your kids fill out the student-athlete survey too (especially for 5th -12th graders).
High School Highlights
The High School Girls Lacrosse team made Aquinas history, winning their first ever playoff game, 13-9, vs. South Fayette. Bella Hite led the scoring with five. Maria Figucia netted three, Lizzie Hardy and Alexa Queen each netted two, and Emma Queen one. Unfortunately, they were not able to pull off a major upset vs. Mars on Thursday night. Congratulations, ladies, on a great playoff run and a great season.
The High School Boys Volleyball concluded their season in exciting fashion last Friday vs. Gateway. After dropping the first two sets, they won the third, 27-25, before falling in the fourth set. The boys were pumped to win their first set of the season and look forward to winning more next season.
Two of our High School Track athletes competed in the WPIAL Championships this week. Alexis Abbett finished with a 12:33.33 finishing 7th overall and earning a medal. John Griffith ran a great race right around his personal record. Congratulations to both, and we're looking forward to an even stronger 2022 Track and Field season!
Got a picture from the most recent games or meets?
and they just might be included in the next edition of "Athletes Footnotes!"
Grade School Gloss
The 7th and 8th Grade Soccer team lost a nail biter to St Killian 3-2 on last Saturday. Scoring for the Crusaders were Eliana BouSamra and Mark Bence. Later in the week, they found themselves up 2-0 over Divine Mercy with 16 minutes left in the game, off goals by Marco Anselmino and Mark Bence. Unfortunately, they could not hold on as Divine Mercy scored two goals to end the game in a 2-2 draw, which resulted in missing the playoffs by a hair.
John Dolan scored off a penalty kick, but it was not enough as the 5th and 6th Grade Soccer team lost 5-1 to St Kilian on Saturday. They did however make the playoffs as the third seed.
The 4th Grade Soccer team lost their first game of the season to Sacred Heart 3-0 last Sunday. The 3rd Grade Soccer team played well last Saturday. Both squads, along with multiple 1st and 2nd Grade Soccer teams compete today in end of season tournaments. Additionally, our 7th and 8th Grade Girls' Soccer team competes in an end of season tournament, with hopes of another championship. Good luck all!
Zoe Solomond, Grace Bond, and Lucille McCargo scored for the 5th - 8th Grade Girls Lacrosse team, but it wasn't enough against a strong Shady Side Academy team as the girls played their final game of the season. Despite the loss, the girls improved and look forward to next year.
The Developmental Track Team competed Saturday, May 15, in the Diocesan championship with 600(!) other athletes. Earning medals were: John Paul Ferrah, Rita Donahue, Eddie Dewitt, John Henry Austin, Gabby Keverline, Mary Grace Dolan, Teresa Ravotti, Josie Donahue and D.J Word. The team made great progress over the season with some notable improvements, such as Jacqueline Wetzel and Max Predis in the 1600m and Lizzie Austin in the long jump. Judah VanVickel, Connor Donahue, Marek Paull, and Dylan Falcon, who were all new to track and field events, were valuable additions to the team. Congratulations Track and Field Crusaders!
Field Day 2021
The Last Battle for the Crusader Cup
On Thursday, students across all divisions competed in a variety of races and games to earn Greek Team points to add to their full-year total in an effort to capture the first ever "Crusader Cup."
Kratistoi entered the day with the lead. After falling to Megistoi in the opening round of tug-of-war, they recaptured the magic, winning the relay race and besting their other foes, Aristoi and Beltistoi.
Full scoreboard for the year is linked below, along with a few pictures from the day (h/t to Matt Stalder - thanks for capturing the excitement of the day).
Congratulations
Kratistoi!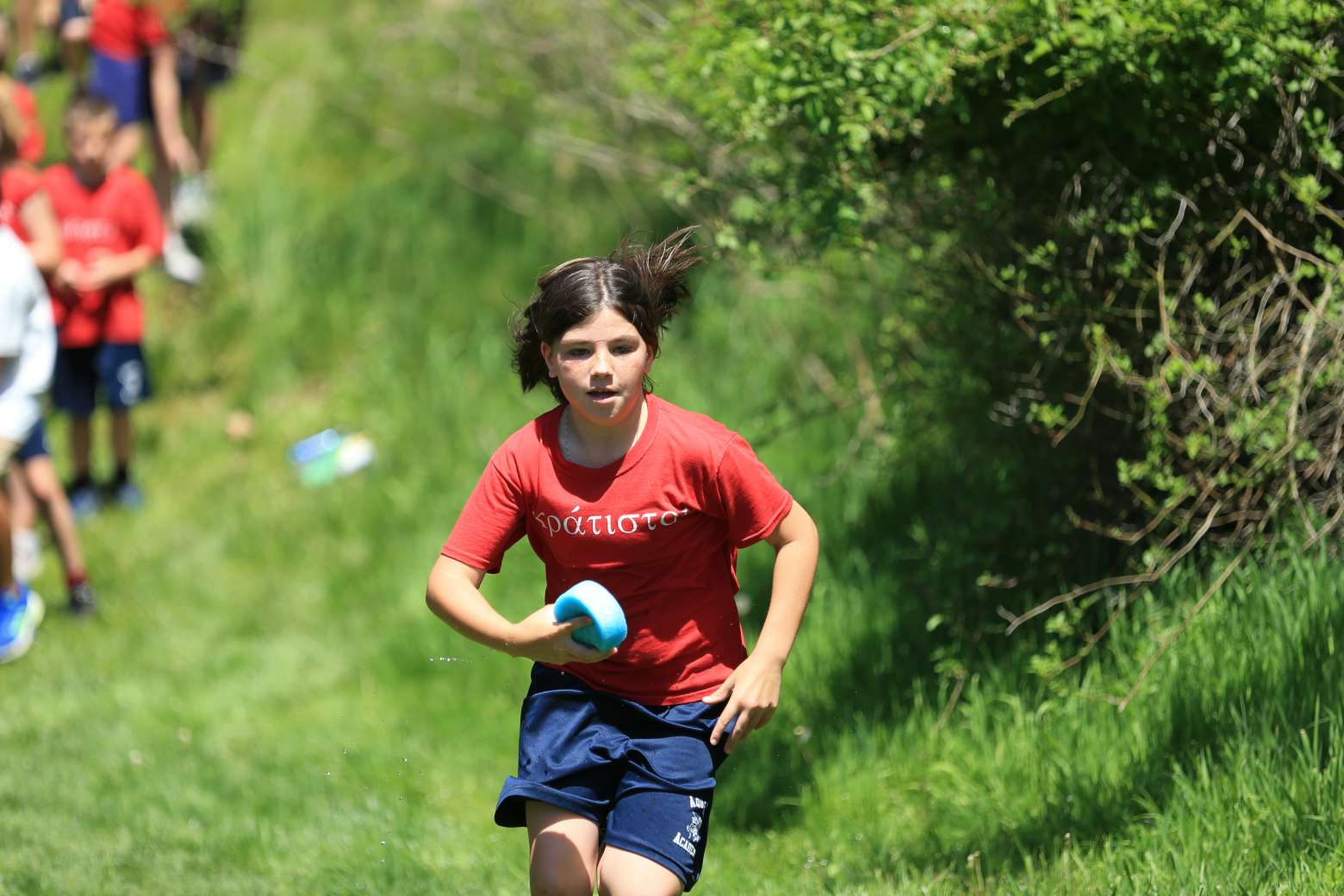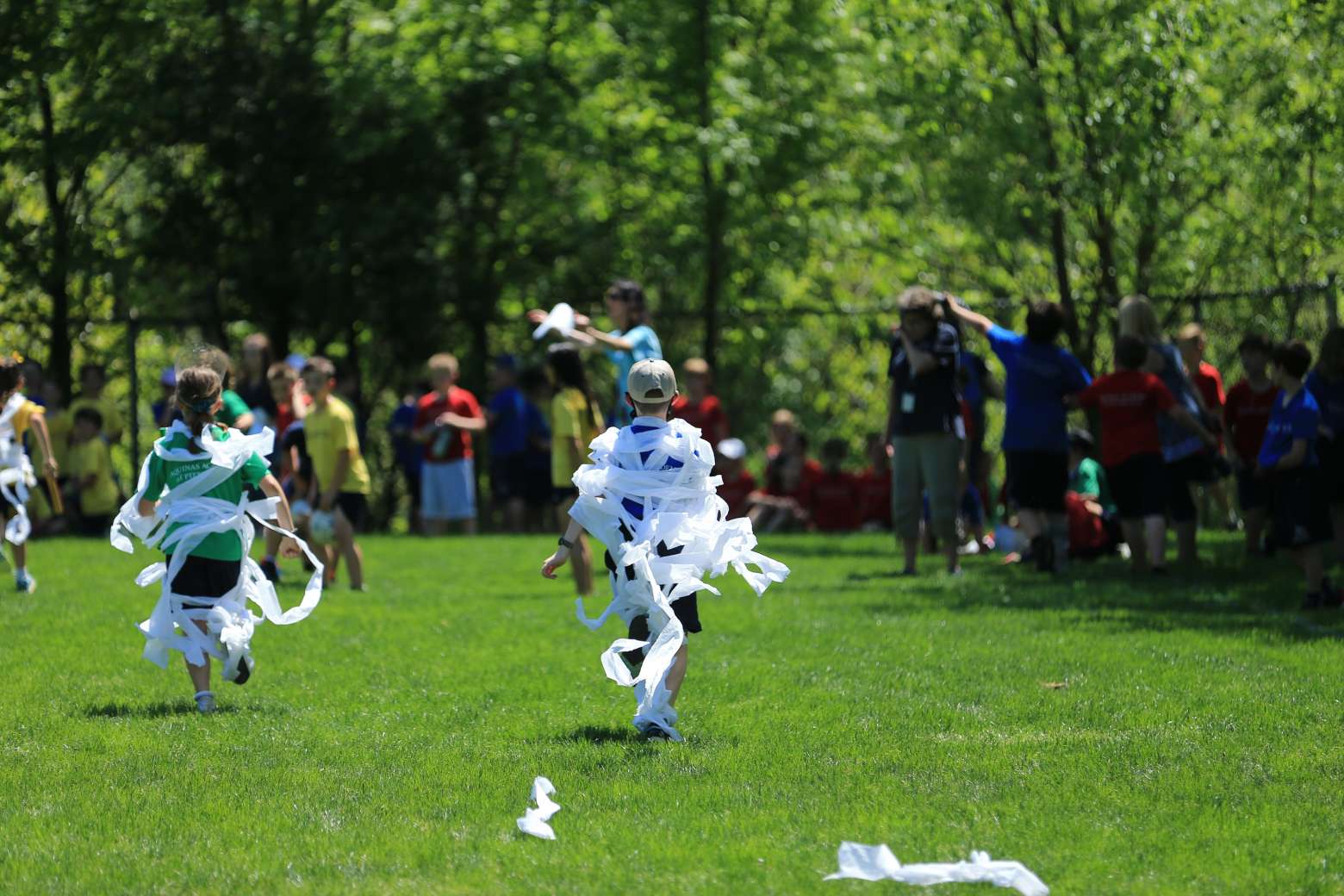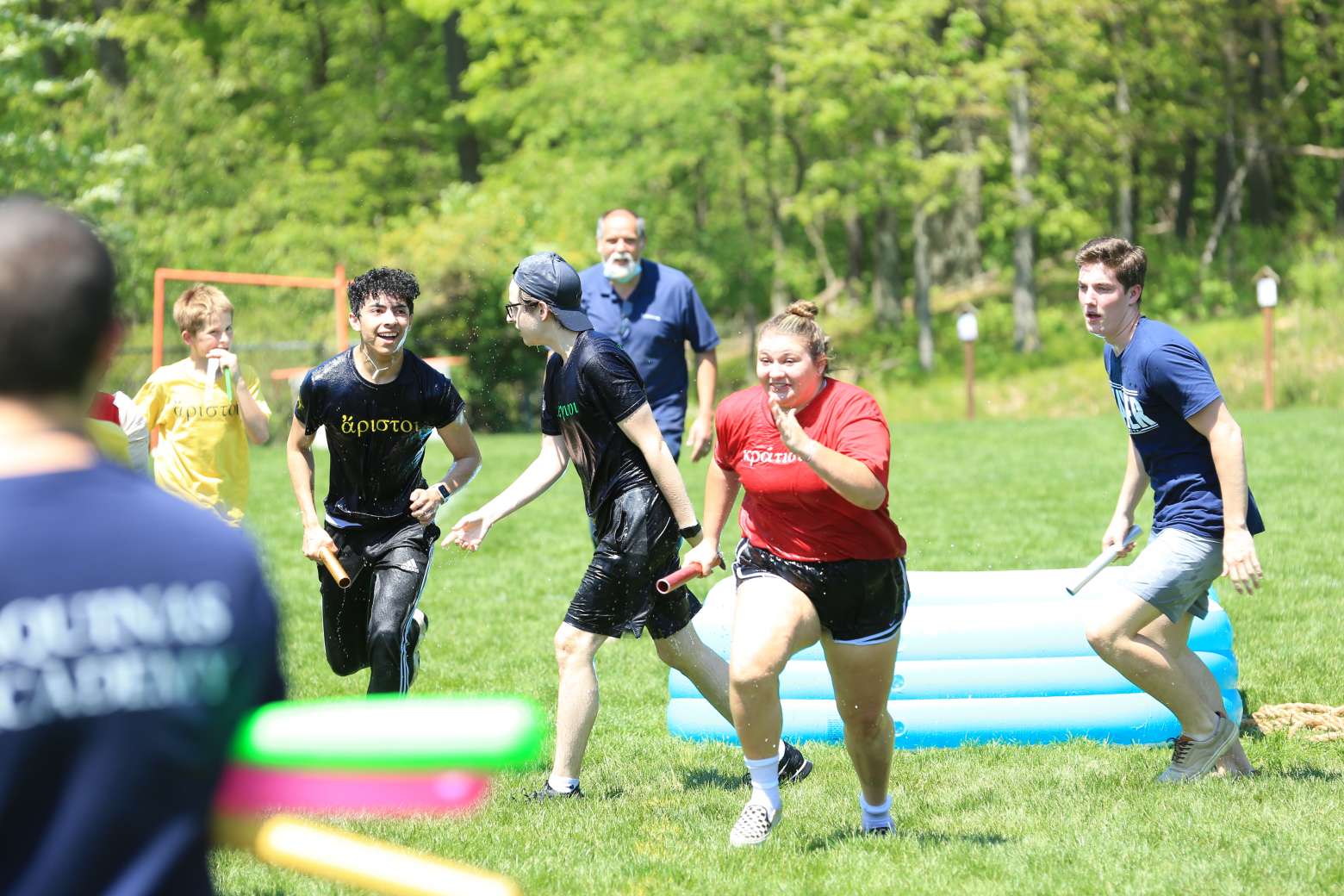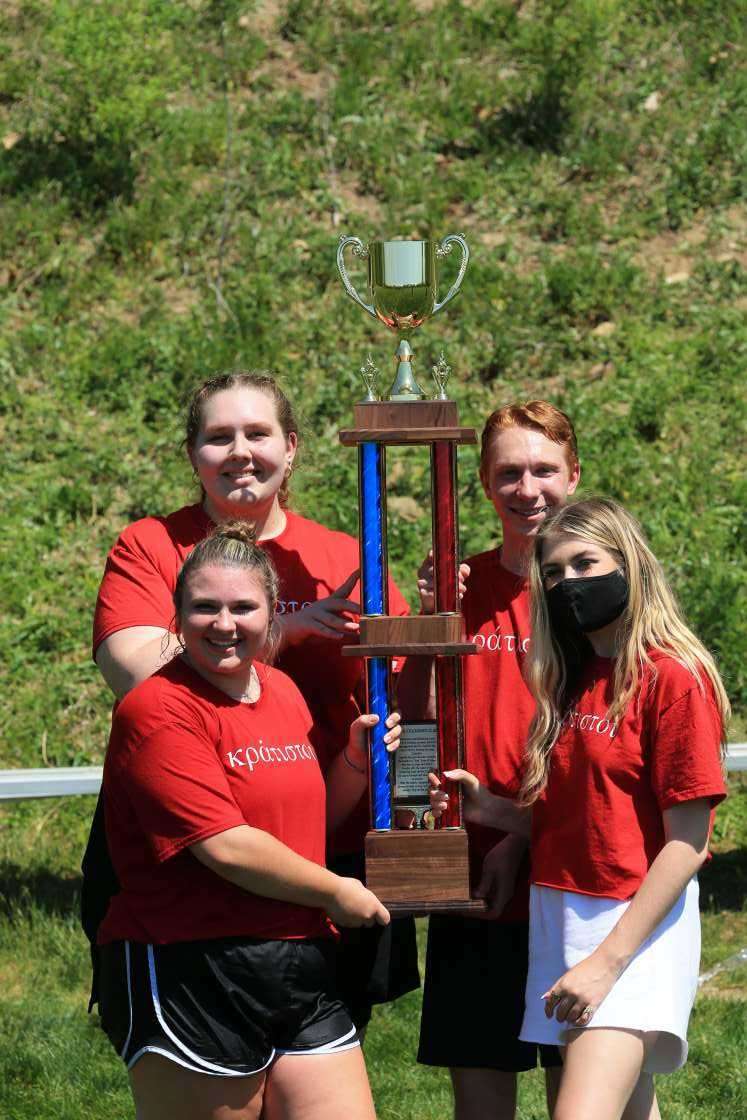 Summer Lacrosse
"For those that do not know us or have not heard about us let me explain who we are. Arrow (Boys) and Lightning (Girls) Lacrosse has been around for over ten years. We offer training, leagues, and teams throughout the year. We believe that lacrosse and all sports should focus on excellent fundamental training, instilling a hard work ethic, and having FUN. Our goal is not to be the biggest or fanciest program around. So you will not see us sending out tons of emails or fancy marketing pieces that make all kinds of unattainable promises. We keep to our core beliefs because we know that lacrosse should be a positive life experience for kids.

This summer we will be offering several programs.
The summer league for boys and girls is a six-week program the allows the athletes to come out and play a game weekly and keep their stick in the hand. We base this on grade level, not age so kids continue to play with their friends. The cost for the six weeks is $95. Dedicated Goalies play for a reduced fee of $50
Learn to Play. Coach Andy has been running this Learn to Play Camp for over 15 years. It is focused on new players trying the game out. The four-day camp only requires a stick and teaches proper fundamentals of throwing, catching, cradling, groundball, shooting, and game basics. If they like the game, they can then invest in equipment. The cost is $95

Lightning Training for girls. Lightning Training Program adds to the girls league. On Monday evenings these girls will train and learn new skills and sharpen their fundamentals. Then on Wednesday play in our Lightning League. For those that have participated in fall and winter training, you will see many familiarities to making girls stronger. This training will start June 2 and have four sessions before the league starts on the 16th for girls. $275.
We truly appreciate the Western PA lacrosse community and understand we have all struggled in the last year. We will continue to follow CDC guidelines. As things return to normal from the Pandemic we will still ask that players will bring their own water and not share equipment. If you feel sick please stay home. Since we are playing outdoors we will not require athletes to wear masks while playing, unless they choose to. All of our coaches have been vaccinated and we will continue to use a common-sense approach.
Since we are a small business we depend on word of mouth marketing to supplement our advertising. We also are not a territorial program. We encourage families to participate in our and other programs. Learning from different coaches only helps develop athletes. So we do appreciate you sharing our information with your teammates, neighbors, and associated programs. It helps make all the programs stronger in the future! Information and registration on all our programs can be found at www.arrowlax.com and you can email questions to arrowlax@gmail.com"
Middle School Ice Hockey
Since we do not offer Ice Hockey at Aquinas, we are happy to advertise this opportunity through North Catholic. We've had our students compete on this team in the past (e.g. Jackson Vollmer), so please reach out to Kevin if you have interest!
Tryouts for the 2021/22 North Catholic Hockey Season are quickly approaching. Registration is currently open to all Middle school students, who are interested in playing hockey. We would greatly appreciate if you would send a reminder out to your Middle School students and families. Please don't hesitate to reach out to me directly, if you have any questions or concerns.
Thanks so much,
Kevin Kilkeary
North Catholic Middle School Hockey
724-516-8534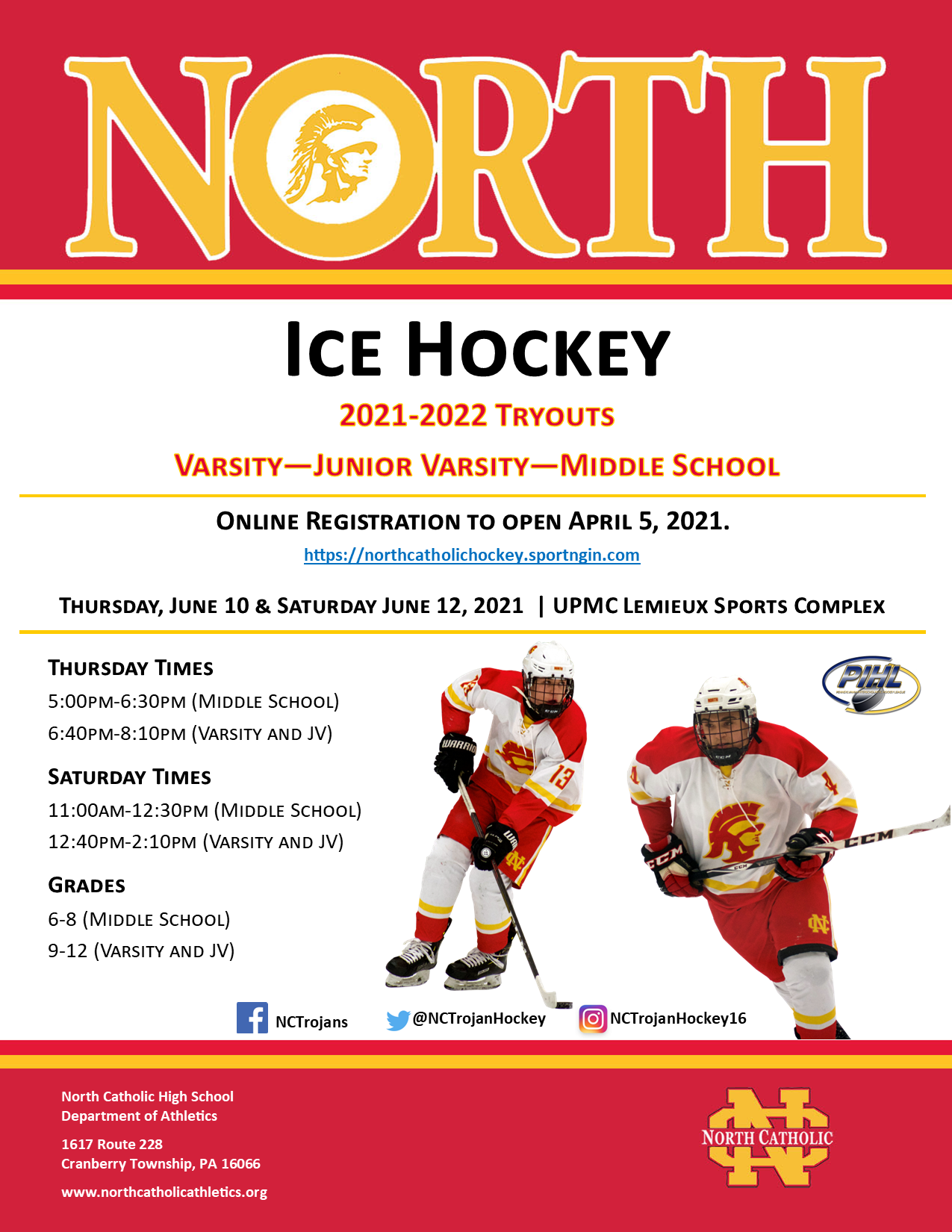 Aquinas Summer Camps
Don't forget to register for Aquinas Summer Camps! We have many sports offerings, and other opportunities as well. Share with your friends and neighbors, as our Summer Camps are open to all!
I hope, above all, that you approach this competition with that disciplined and focussed attitude which helps to form every person and which can teach order, loyalty and respect for people and laws as well as being a training ground for building strength and dignified behaviour.